Knife makers
Stilettos and law
Miscellaneous
Blade types of Italian automatic stilettos
Bayonet (Bayo) - The most common type of blade on the Italian automatic stiletto. At the back of the blade, for about a third to half the length of the blade it has false edge. There is clearly visible line for entire length of the blade from which comes the descent to the cutting edge.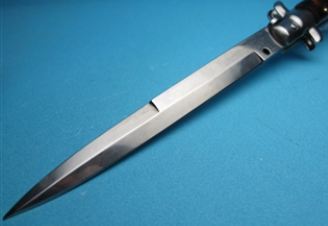 Dagger (Spear) - Type of blade with symmetrical slopes to the cutting edge and spine of the blade, similar to bayonet, but unlike it, descent to the spine, in the upper part is made over the entire length of the blade.



Modified bayonet (Half Grind, Extended bayo grind blade, Extended bayonet, Half-Grind Dagger) - Similar to bayonet, but difference is that the descent to the spine in the upper part of the blade is made in a smooth manner. There are several varieties of modified bayonets.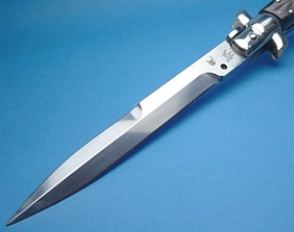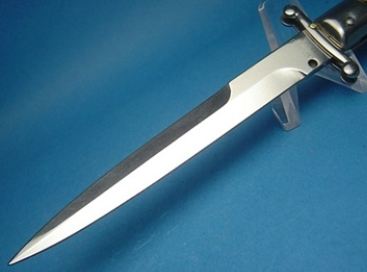 Plain (Flat Grind) - Type of blade with flat blade, blade shape is similar to the ordinary kitchen knives.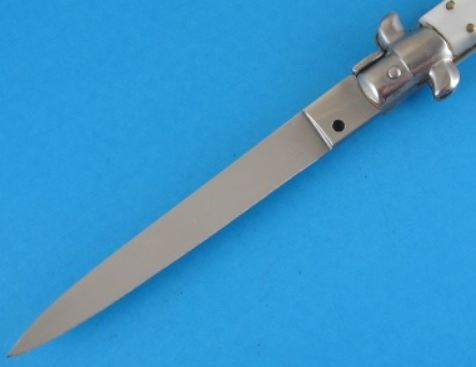 Swedge (Swedge Bayonet) - Type of blade similar to Plain, but with a slight difference - the tip of the blade has a slightly pronounced descent to the spine, similar to the one that has a ordinary bayonet. This type of blade on automatic stiletto in Italy came after the ban of automatic knives in the US in 1958. Knife with such blade has a utilitarian function, it is easier to cut with, rather than with bayonet or dagger which in fact only suitable for the stabbing. These blades have been designed to give stilettos more "peaceful" look and change their "stabbing" character toward more "utilitarian".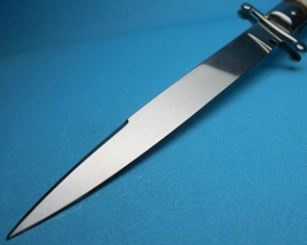 Kris - Blade in a form of wave, such blades called "flaming", also they are called in the advertisement Zig-Zag. This type of blades known since ancient times in Europe and Asia. Nevertheless, the son of the company founder Latama - Sam Polincovsky (Polk) in Italy managed to get a patent for a flick knife with similar blade.